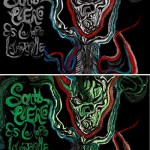 SANTO PUERCO: ES LA HORA DE LEVANTARME
Limited edition of 40 UV prints, 20 in each color.
Original is painted with UV paint. Each print is printed on archival quality lurex paper, and individually autographed.
Available in two colors: green/white or red/white.
Small print: 11x16,5 inches
Large print: 12x18 inches

Updating...