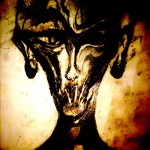 Cuidate Traidor! La Verdad Llamándote Los Lobos sangrientos des de la Tumba (para Fernando Vallejo), Gracias a Ricardo de Nerval
Limited Edition of 10 prints in each size (20 prints total).
From an original drawing by Diamanda Galás, chalk on paper. Each print is made on archival-quality watercolor paper and individually signed and numbered.

Updating...