Diamanda Galás to deliver keynote address at UCLA's Voice Studies Now Conference
January 27, 2015
DIAMANDA GALÁS to deliver
Keynote address "IN THE MOUTH OF THE CROCODILE"
at UCLA's Voice Studies Now Conference
Friday, January 30, 2015 4pm, Schoenberg Hall
Free and Open to the Public
One of the most exceptional singers and performance artists of our time visits UCLA for an unprecedented free event: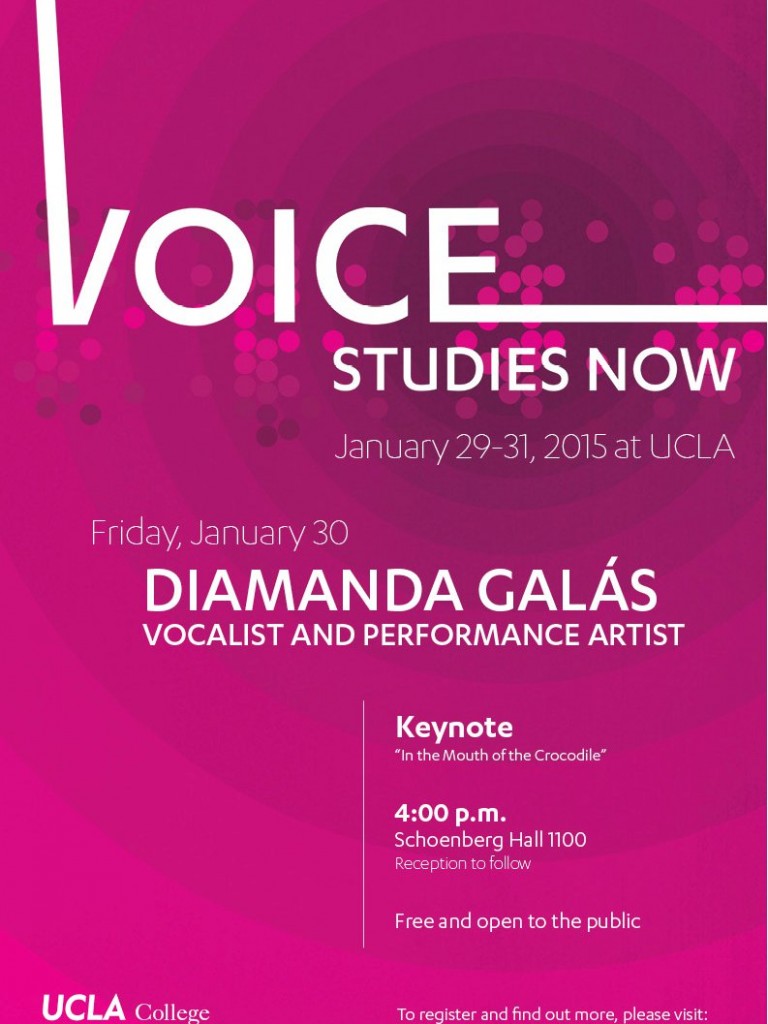 LOS ANGELES, CA – UCLA's Voice Studies Now Conference is proud to announce Diamanda Galás will be delivering the Keynote address, Friday, January 30th, 2015. Hailed as one of the most exceptional singers of our time, Diamanda Galás has earned international acclaim for her highly original and politically charged performance works. Notable among these are Plague Mass, Defixiones: Orders from the Dead, Vena Cava, Schrei X, and The Refugee. Galás is a singer, pianist, activist, painter, and one of the most revered artists of the late 20th Century.
ABOUT THE EVENT:
Voice Studies Now Conference UCLA (January 29th – 31st)
This conference is designed in conjunction with the forthcoming Oxford Handbook of Voice Studies. Authors will gather to engage with each other and with the public, discussing the significance of voice as concept, embodied act, and cultural practice.  We are asking our participants to consider the overarching question "What is voice?" We will have representatives from the disciplines of anthropology, musicology, ethnomusicology, medicine, literature, music composition, communication studies, media studies, and linguistics. Topics will include voice and cognition; vocal health; voice and religious practice in Islam; voice in Hindustani classical music (India); singing impersonators; the speaking voice and American identity in public radio; voice and the telephone; voice and trans* identities; voice and authenticity in African American gospel singing; trans-Pacific voice in Korean religious practices.
Panels will be held in UCLA's Royce Hall 314 8:30am – 4pm Friday and Saturday
Full press release here.