THE FALL OF ATHENS. A BOOK REVIEW  
Some years ago, as I decided to transition from being a Diamanda Galàs' devoted fan into a scholar studying her art, I struggled trying to understand her cultural roots. How is one to approach the grief, despair, love, longing for justice, courage, and violence that coexisted in such an unusual way in her haunted songs? It is women who seem to be able to turn weeping into controlled, often contemplative lament: "tears become ideas", I read in a book titled Dangerous Voices: Women's Laments and Greek Literature (1992) by Gail Holst-Warhaft, undoubtedly one of the most distinguished experts in Greek lamentation and in the relationship between grieving, art, and politics.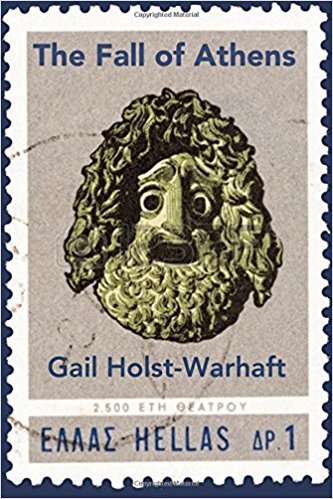 Love, death, departures, and the fall of great cities, are all recurring themes in the lament genre, and The Fall of Athens, Holst-Warhaft's new book, incorporates them all into one "song about remembering". Through a narrative which is both complex, and yet extremely endearing and accessible, she harmonically integrates  heterogeneous texts and literary genres: history, chronicle, classical theatre, autobiography, personal correspondence, poems translated or written by her (of which one is dedicated to Galàs). She leads us through a peculiar oscillation between past and present, personal and political life, stories and history.  She thus provides us with a glimpse of Greece that completes and challenges the classical idea of Greekness, which is too often oblivious of women's cultural contribution, of popular culture brought through migratory flows, and generally of anyone who was born after Aristotle.
The Fall of Athens 
is also a passionate mosaic of emotional reminiscences, fragments of an intimate dialogue – as she writes, this book is about a country and a city I came to love. I sometimes think of Greece as an aging lover, his beard turned grey, a glint still in his eye.Through her work as a translator and her collaborations as a harpsichordist the author has achieved not only knowledge, but intimacy and political solidarity with Greek musicians, poets, playwrights and directors such as Mikis Theodorakis, Thanassis Athanassiou, Mariza Koch,  Karolos Koun, 
Iakovos Kambanellis, 
Katerina Anghelaki-Rooke.  A common thread binds them all, and it is the brave and uncompromising devotion to art, in a culture where, far from being just entertainment, art is dangerous – it can trigger revolutions among its audience,  and bring death and torture upon artists.
It is precisely the weaving work of a lamenter to commemorate, praise, denounce, instruct, by intertwining the different languages of prose, poetry, history and biography.  Holst-Warhaft masters these multiple narrative threads, binding the ancient Athens that once generated myths to the contemporary Athens drifting in godless despair. Yet, a spark of hope remains alive, since, as she writes in her book, "A country that bans not just political songs, but everything a composer has written must, I realized, believe deeply in the power of music."
Dangerously empowering is the vibrant material of this book, which couldn't be more timely for the political and cultural moment in which it has been published.
For certain people there comes a day
to utter the great Yes or the great No.
Whoever it is will quickly show
he has the yes in him ready to say;
And with conviction and honor, on he'll go.
The no-sayer never repents what he denied;
he would say no again if he were tried.
Yet his life is weighed down by that proper no.
– C.P. Cavafy (translated by Gail Holst-Warhaft)
Holst-Warhaft, Gail. Road to rembetika: music of a Greek sub-culture: songs of love, sorrow, and hashish. Athens: D. Harvey, 1975.
Holst-Warhaft, Gail. Dangerous voices: womens laments and Greek literature. London: Routledge, 1995.
Holst-Warhaft, Gail. The cue for passion: grief and its political uses. Cambridge, MA: Harvard University Press, 2000.
Holst-Warhaft, Gail. The fall of Athens. Burlington, VT: Fomite, 2016.
19.06.2015 20:01
Głos nieprawdopodobny, o niewiarygodnej skali, świdrujący mózg, rozrywający serce – od pisku po charkot przez szept, jęk do krzyku, do tego zapętlona transowa muzyka – w Imparcie amerykańska artystka zaprezentowała ekspresyjny i mroczny "Das Fieberspital" oparty na tekstach Georga Heyma i jej własnych.
Artykuł otwarty w ramach bezpłatnego limitu prenumeraty cyfrowej
Performance muzyczny, nad którym słynna Diamanda Galas pracuje od jesieni, będzie mieć oficjalną premierę podczas Olimpiady Teatralnej w 2016 roku. Teraz przedstawiła na scenie kolejny etap przygotowań, rzec można – spektakl niemal skończony, monodram poruszający, przerażający, dziki. W ramach pokazu work in progress artystka, dysponująca niezwykłą trzyipółoktawową skalą głosu, tylko czasami akompaniowała sobie na fortepianie, częściej tłem dla jej niezwykłego głosu były przetworzone, pulsujące rytmy o niskich i głębokich brzmieniach oraz infradźwięki zapętlonych wokaliz. A jej śpiew, mamrotanie i odgłosy sprawiały przejmujące wrażenie – nie do wiary, że mogły wydobywać się z ludzkich trzewi.Fragmenty poematu "Szpital malaryczny" Heyma – opisującego cierpienia pacjentów w ostatnich stadiach żółtej febry deklamowane po niemiecku przez Diamandę – dodatkowo pozbawiały widza cienia optymizmu.Spektakl odbył się przy wypełnionej po brzegi sali. Widownię zajęli zarówno miłośnicy teatru, jak i wystylizowani goci, przedstawiciele środowiska performerskiego i muzycy. Fascynacji nie krył też Nergal oraz twórcy industrialnej Job Karmy.
Wyborcza.pl Wroclaw News from Wroclaw
She sounded inhuman: the fascinating vocalist Diamanda Galás
as 06.19.2015 20:01
BY KORNELIA GŁOWACKA-WOLF
An unbelievable scale, piercing the brain, bursting the heart – from the hoarse squeak to whisper, moan to scream, to the looped trance music – in Imparcie American artist presented the expressive and dark "Das Fieberspital" based on texts by Georg Heym and Galas' own .
A musical performance, over which Diamanda Galas famous works will be officially unveiled at the Theatre Olympics in Autumn, 2016. Now she presented on the stage the next stage of preparation, so to speak – a performance almost finished– a monodrama– moving, scary, wild. As part of the work in progress show the artist
with the extraordinary triplophonic voice–only occasionally accompanied herself on the piano. Often the backdrop for her extraordinary voice was electronically warped, pulsating rhythms of low and deep sounds, including frenzied, looped vocals. And her singing, muttering and sounds gave a poignant impression – I could not believe that they could be extracted from human viscera.
Excerpts from the poem "The Fever Hospital" by Georg Heym , describing the delerium of patients in the last stages of yellow fever, declaimed in German by Diamanda Galas – further deprived the viewer of any hope of optimism.
The performance took place in a packed courtroom. The audience included both theater -goers and styled guests, representatives of the performerskiego and musicians. Also Galas did not hide her pleasure in meeting Nergal and industrial creators of Job Karma [who attended the performance].
Krzyki, szepty i jęki – demoniczna Diamanda Galas we Wrocławiu
12.06.2015 12:25
Diamanda Galas (Materiały prasowe. Austin Young)
"Das Fieberspital", najnowszy utwór, nad którym pracuje Diamanda Galas, jedna z najniezwyklejszych współczesnych wokalistek, będzie miał oficjalną premierę podczas Olimpiady Teatralnej w 2016 roku, 18 czerwca jego fragment przedstawi w Imparcie.
Artykuł otwarty w ramach bezpłatnego limitu prenumeraty cyfrowej
Krzyk, zawodzenie na przemian z diabolicznym wyciem bądź szeptem, czyli głos połączony z elektroniką i grą na fortepianie – tak zapowiada się performans muzyczny Galas.Tytułowy "Szpital malaryczny" to poemat Georga Heyma, niemieckiego poety urodzonego w 1887 roku w 
Jeleniej Górze
.Twórcy nieprzystosowanego, nieakceptującego kierunku przemian społecznych, profetycznie opisującego upadek Niemiec. Jego tragiczna śmierć – załamał się pod nim lód, kiedy jeździł na łyżwach po rzece Haweli – zainspirowała Zbigniewa Herberta do napisania poematu "Georg Heym – przygoda prawie metafizyczna".Diamanda Galas jest pod wrażeniem sztuki niemieckiego ekspresjonizmu i poezji Heyma: – Poemat pochodzi sprzed pierwszej wojny światowej, ale stał się metaforą losu ofiar powracających z jej frontów. Opisuje cierpienia żołnierzy w ostatnich stadiach żółtej febry, których zakaźna choroba traktowana jest jak kara za grzech, dopust boży. Podzieleni na zbiory, podzbiory, odczłowieczeni i ponumerowani, pozbawieni opieki oraz współczucia, czekają na śmierć, poddawani dezynfekcji i targani wstrząsami dreszczy. Umierających odwiedza ksiądz, namawiając ich do przyjęcia ostatniego namaszczenia za cenę przyznania się do winy i przyjęcia odpowiedzialności za chorobę.
Performans demonicznej Diamandy na razie jest w stadium "in progress". Na początku roku dziennikarze i zaproszeni goście mogli Na Grobli posłuchać fragmentu ścieżki muzycznej.
Teraz – w czwartek 18 czerwca – w Imparcie artystka pierwszy raz publicznie przedstawi jego część.
Wystąpi na scenie w kilkudziesięciominutowym spektaklu, w którym grać będzie na fortepianie i śpiewać.
Impart (ul. Mazowiecka 17) 18 czerwca o godz. 20, bilety 40 zł.
Artykuł otwarty w ramach bezpłatnego limitu
Wypróbuj prenumeratę cyfrową Wyborczej
Nieograniczony dostęp do serwisów informacyjnych, biznesowych,
lokalnych i wszystkich magazynów Wyborczej.
Living in a Material World
Madonna fights back against ageism and sexism in the entertainment industry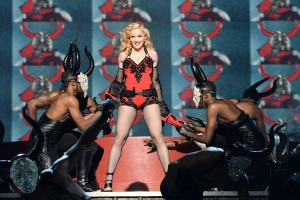 Madonna performing at the 57th Annual Grammy Awards: "The disgusting comments towards her age and behaviour at the Grammys in February were some of the most regressive made towards a woman in recent memory." (Photo: Kevin Mazur)
Would it sound better if I were a man? Would you like me better if I was?
— "Human Nature" by Madonna and Dave Hall
This simple yet poignant rhetoric was released as a vinyl-covered slap-in-the-face to the deeply mysoginistic criticism that dogged Madonna after the shockwaves of her notorious SEX book continued to reverberate through the mid '90s. Nearly 20 years later, the same person receives the same criticism.
Though, the barbs are no longer for merely being a woman who wields her sexuality like a weapon and as a means of brilliant commercial manipulation. Now, the trailblazing frankness has become commonplace for a multitude of female (and male) artists to take for granted and exploit.
But the originator? She should retire gracefully. She's clearly too old to still be acting like she has for the past 30 years. Right? Wrong.
Pop has long been a merciless arena and is typically viewed as a younger (wo)man's game. Thematically, pop is about sex and vitality and if someone is able to survive that long in the most cut-throat genre of them all, then should they not be praised? Oh, just not if you're a woman.
No one is definitively defined by their faith or their sexuality and Madonna's ever-expanding body of work tirelessly reminds us of this. We can be many different things in our lives and age should never determine that.
Elvis, Michael Jackson, and Kurt Cobain all self-destructed under the pressure, but Madonna has always been too smart for that (a certified genius actually). That anyone could still be offended by her would be cute if it wasn't a sign of how frighteningly puritanical this world still is.
The disgusting comments towards her age and behaviour at the Grammys in February were some of the most regressive made towards a woman in recent memory. Never mind that Angus Young can still strut around in a schoolboy uniform at 59, or that 88-year-old Tony Bennett can grind on Lady Gaga, or that the Rolling Stones have a combined age of 284.
If watching a nearly 60-year-old woman shake her ass in front of the entire world isn't feminism, then I don't know what is.
The comparisons between Madonna and Annie Lennox were mutually degrading. Lennox was praised for a more demure presentation and "acting her age", while Madonna was shamed for wearing hot pants and being surrounded by a bunch of younger men. Both women, total icons of their craft, represented themselves as they always have: Lennox's shattering vocal abilities swathed in elegant androgyny and Madonna's powerful and joyful sexual glamour.
In her interview in the March 2015 issue of the Rolling Stone, Madonna says "It's still the one area where you can totally discriminate against somebody and talk shit. Because of their age. Only females, though. Not males. So in that respect we still live in a very sexist society."
But of course this is lamely distilled into two middle-aged women and how they behave. Has pop journalism become this creatively bankrupt that all it we can do is pit two successful and completely different women against each other? The critical need to compartmentalize people — especially women — remains nauseously fervent.
It is so much easier to digest a younger artist paying tribute before we wheel out the elderly originator to give them some condescending applause. Lady Gaga's "respectable" tribute to the inimitable Julie Andrews at the Academy Awards this year was just that. Polished, surprisingly traditional, and frankly pointless. And to those that say that our sweet Julie was never sexual have clearly never seen the brilliant Victor/Victoria, notably directed by Andrew's comically gifted husband the late Blake Edwards. It was a much more successful and liberating union than that of Madonna and the notoriously chauvinistic and homophobic Guy Ritchie.
It's becoming increasingly difficult to envision Madonna accepting some sort of tacky tribute. Sure, awards are thrown at her feet, but you just can't see anyone but her doing justice to such an exhaustive back catalogue.
And why should we fault artists for wishing to create and emphasize new material? People change and so too should the art they create. Sinead O'Connor very publicly announced recently that she would allegedly never perform "Nothing Compares to U" (her biggest hit) in concert again, citing that "not all singers are actors" and that the song had lost relevant emotion for her.
And then there are the collaborators. Madonna has long been accused of merely harnessing the creative vision of a myriad of (usually male) producers. Sure, they are sought out to assist in production, but if you read the credits on her records since the Nile Rogers-helmed Like a Virgin, nearly every track is written and produced by her.
In a recent interview with Pitchfork, Bjork maintained that this remains a deeply ingrained and woefully sexist practice of the music industry. Women simply do not receive the deserved credits for songwriting and production. If Radiohead or Jay-Z seek out Nigel Godrich or Rick Rubin, they are viewed as nothing more than cool guys looking for the biggest producers to work with. But women are always merely the pop puppets. And Quincey Jones is arguably more responsible for Thriller than Michael Jackson was.
But what is it that makes many gay men love Madonna or any such diva so profoundly? I cannot attempt a proper psychoanalysis but can say that, throughout history, homosexuals have always been drawn to strong women and Madonna's rejection of heteronormative labelling has always struck a deep chord. The sweep of Cleopatra to the chic bitchiness of Bette Davis have always rung truer than the pragmatic appeal of their male counterparts.
But much more than any projective fantasy, Madonna has been a steadfast ally to the LGBTQ community. When the diagnosis of being HIV-positive was a guaranteed death sentence and nearly every major public figure of the era wantonly looked the other way, Madonna — along with Princess Diana, Elizabeth Taylor and Diamanda Galas — roared in support of a marginalized people that were essentially decimated.
Her vocalized charity towards the matter has been labelled as "opportunistic" and "pandering" over the years. This is a malicious and cheap assessment. One only has to delve into the vulnerability that simmers beneath the pounding dance-pop of Erotica to hear the sorrow for the loss of a generation that made the lower east side a progressive eden for some of the greatest artistic talents of the 20th century. You may say that she's a shrewd capitalist … of course she is. Who in the industry isn't? John Lennon certainly didn't die penniless.
The continuing word that is hurled at Madonna is irrelevant. How sad it is that the video genius, who brought so many underground sounds and images to MTV, now claws to be at the front of the pack she used to lead. Right? Wrong.
As technology develops so too does media and our methods for its consumption. I tend to remember the '90s in a more positive light than most. There was a certain pre-9/11 idealism that celebrated ethnic inclusivity and equality — specifically on MTV of which Madonna was the reigning Goddess. Back when it, you know, actually aired music videos. This of course has given way to the entitled cynicism of the total media age that we live in. Everyone who can comment will.
Madonna is arguably more important than she has ever been. Why? Not only in releasing her best album in a decade, the sprawling and sublime Rebel Heart, but because people don't know how to categorize her. Almost anyone who has achieved her level of superstardom is either dead or relegated to the mushy sentiments of some sort of lifetime achievement award.
It's genuinely shocking for some to see a woman of her age continuing to be provocative, let alone talk about having sex. When I'm that age, I anticipate that stigma will have been vaporized by what she is doing now. In 20 years it will be commonplace for younger artists such as Miley Cyrus to continue to be sexual well into their careers, rather than strictly when they are in their twenties and the Logan's Run diamond activates. Sure we can make yet another Terminator film and squeeze Arnold back into shape, but Linda Hamilton is no where to be found.
Madonna's continuing rejection of categories and labels in a society that is rapidly developing a strangle-hold-like obsession with them continues to inspire and amaze. No one is definitively defined by their faith or their sexuality and Madonna's ever-expanding body of work tirelessly reminds us of this. We can be many different things in our lives and age should never determine that. There is simply no precedent for a career like this.
I cannot wait to see what rules she'll make and break in the next 20 years. Long may she reign.
Elliott Burton is a critic and columnist who is committed to creating and expanding film awareness.
He is also an accomplished mixed-media artist who graduated from PCVS's Integrated Arts Program.
Elliott lives and plays in Peterborough.
You can follow Elliott on Twitter at @ElliottAnger.
Articles by Elliott Burton (38)
Read more here.
DIAMANDA GALÁS to deliver
Keynote address "IN THE MOUTH OF THE CROCODILE"
at UCLA's Voice Studies Now Conference
Friday, January 30, 2015 4pm, Schoenberg Hall
Free and Open to the Public
One of the most exceptional singers and performance artists of our time visits UCLA for an unprecedented free event: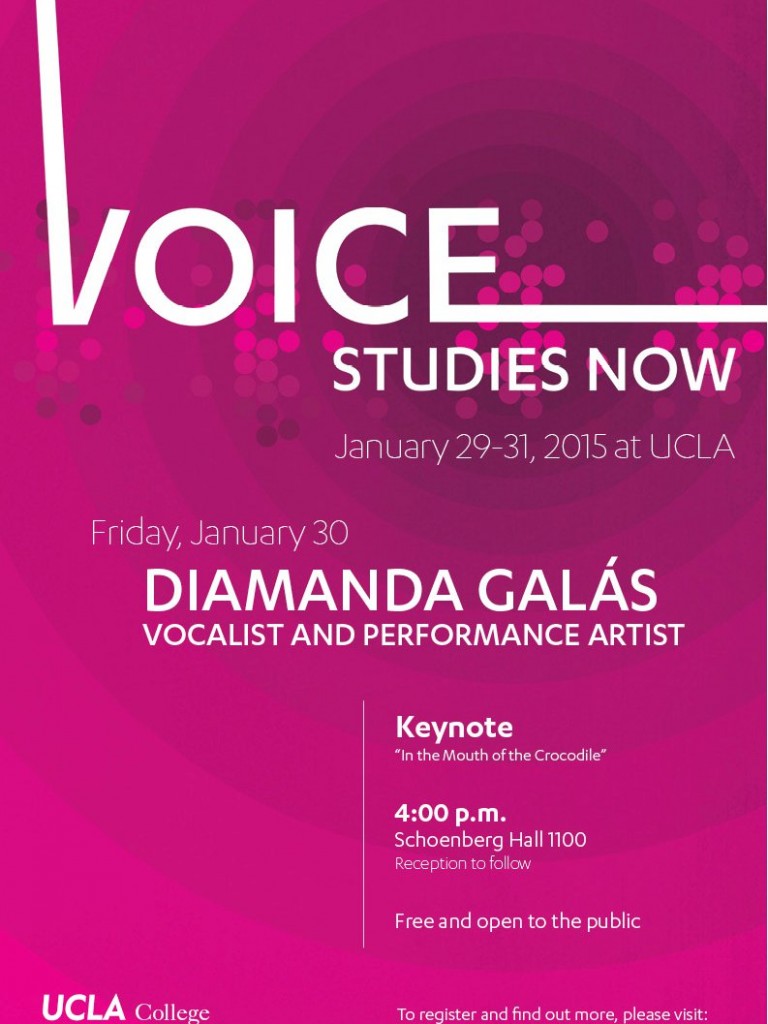 LOS ANGELES, CA – UCLA's Voice Studies Now Conference is proud to announce Diamanda Galás will be delivering the Keynote address, Friday, January 30th, 2015. Hailed as one of the most exceptional singers of our time, Diamanda Galás has earned international acclaim for her highly original and politically charged performance works. Notable among these are Plague Mass, Defixiones: Orders from the Dead, Vena Cava, Schrei X, and The Refugee. Galás is a singer, pianist, activist, painter, and one of the most revered artists of the late 20th Century.
ABOUT THE EVENT:
Voice Studies Now Conference UCLA (January 29th – 31st)
This conference is designed in conjunction with the forthcoming Oxford Handbook of Voice Studies. Authors will gather to engage with each other and with the public, discussing the significance of voice as concept, embodied act, and cultural practice.  We are asking our participants to consider the overarching question "What is voice?" We will have representatives from the disciplines of anthropology, musicology, ethnomusicology, medicine, literature, music composition, communication studies, media studies, and linguistics. Topics will include voice and cognition; vocal health; voice and religious practice in Islam; voice in Hindustani classical music (India); singing impersonators; the speaking voice and American identity in public radio; voice and the telephone; voice and trans* identities; voice and authenticity in African American gospel singing; trans-Pacific voice in Korean religious practices.
Panels will be held in UCLA's Royce Hall 314 8:30am – 4pm Friday and Saturday
Full press release here.
"A HOMICIDAL LOVE SONG FOR SOLO SCREAM": ON THE MUSIC OF PSYCHOTIC STATES OF MIND
By Lech Kalita
From the bilingual (English/Polish) book "Art and Freedom", published by Museum of Contemporary Art in Kraków (Poland).Kalita discusses the yet unintelligible communication of psychotics, and does an analysis of the composition "Wild Women with Steakknives," by Diamanda Galás.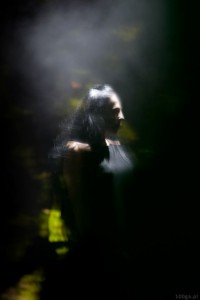 LECH KALITA "A Homicidal Love Song for Solo Scream": On the Music of Psychotic States of Mind
In the present work I posit that we should avail ourselves in parallel of psychoanalytical concepts and musical creativity in order to enhance our understanding of the manner in which psychotic states of mind communicate. To my mind, the value of reflection on communication lies in the fact that transmitting one's own psychic states to another person and the possibility of communing with the experience created in the person's mind is part of man's exceptional freedom. As a clinical discipline, psychoanalysis is close to musical creativity in a number of aspects: both fields require the ability to listen carefully on more than one level, a precise sense of timing, as well as a complex combination of theoretical knowledge, technical know-how and fine emotional tuning. Both disciplines lead to the organisation of rudimentary emotional states by the means of complicated symbolic systems and formal structures, such as for example language (in psychoanalysis) or musical notation (in music). However, it is precisely the expression and communication of emotional experiences that constitutes the fundamental content and meaning of both disciplines. Musicians and their audience are capable of finding a shared emotional significance in an hour-long jazz improvisation session without any predefined metre or key, just as the patient and the therapist can find a shared emotional meaning in a therapeutic session, during which both experience a variety of emotions, even though for an hour not a single word is uttered. On the other hand, even the most coherent theoretical psychoanalytical interpretations when separated from the patient's emotions are reminiscent of practising scales to a metronome; in spite of being formally correct, they fail to occasion any great emotional impact.
Psychoanalytical psychotherapy endeavours to transform emotional experiences by the means of verbal interpretation of their significance. Mis does not mean, however, that the area of musical experiences is absent from the therapist's study. In my work with patients, music has appeared in three basic forms.
Firstly, it has been the case at times that patients who wrote or performed music, whether professionally or not, simply recalled these experiences to me and in various ways associated them with emotions that were important to them. In these situations the patients communicated their musical experience on the level of verbal symbols.
Secondly, on a few occasions patients engaged in direct musical activity. As an example, a female patient suddenly decided during the session to sing a sad song about lost love that she had written. One could say that apart from verbal communication (conveyed amongst other means by the text of the song) such persons symbolise and convey emotional content also by other means (employing a defined musical structure: melody, rhythm etc.).
A third, and quite different, experience was for me the therapeutic session with a female patient with a strongly psychotic personality. This young woman spent the best part of the session cowering in terror in the armchair. I later discovered that at the time she was experiencing very forceful delusions in which I appeared as Satan, desirous of her death. On the day, however, the patient was not capable of referring to these delusions by a single word and so we passed the time in fear and in tense silence. The last ten minutes of the session were filled with her terrifying, piercing, inarticulate scream. During those long minutes, filled with terror, the patient's scream became organised and disorganised according to certain paramusical, formal rules – some elements of the structure or tone recurred, only moments later to dissolve into chaotic, almost bestial howling. From the chaos, a few words emerged as a scream: 'What is this?! What is this?!' A closer analysis of such vocal expression and the related emotional processes is the core theme of this paper. For this purpose, I will, however, avail myself of another example – the musical art of the avant-garde artist Diamanda Galás.
Galás commands impressive vocal ability, capable of a nearly four octave range; she is also an outstanding pianist and composer with classical training. One example of her expressionist, unconventional style is a piece very reminiscent of the scream of my patient – her Wild Women with Steak Knives (a Homicidal Love Song for Solo Scream).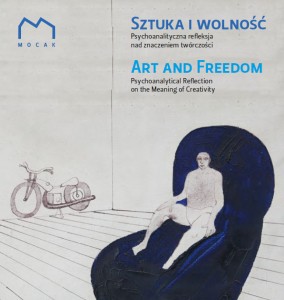 The 12-minute long composition a cappella consists of screaming, wailing, hissing and jabbering that resemble glossolalia. Only rarely do a few coherent, screamed-out sentences emerge from the chaos. It is difficult to talk here about any metre, rhythm or even tonality, although the sounds do form themselves into some sort of repetitive structures. On the first hearing, a sensitive listener will probably be shocked, taken aback and confused, perhaps considering the piece threatening and peculiar. These reactions are reminiscent of the feelings that therapists frequently experience when working with the psychotic parts of the patient's personality – for example in the situation which I have described with this particular female patient. Due to this, the piece both in its direct content and in its emotional impact clearly brings to mind the expression of early psychotic mental states. I would like to take a closer look at the details of this composition and its rendition in order to analyse to what extent in the performance by Galás the musical expression of the early mental states coincides with the psychoanalytical understanding of psychotic phenomena. One of the characteristics of psychotic functioning is the impairment of the ability to form symbols, in other words, to represent emotional experiences using abstract concepts, words or images, set in a network of systematised connections.1 To put it even more simply: an individual that functions psychotically is unable to organise his experiences on the basis of a shared, stipulated order. In his world, everything is only what it is. Mere are no impressions there, only facts, such as, for example, fear of another person is proof of that person's bad intentions rather than a feeling which represents fear of another's bad intentions. My patient's terror of my having become Satan lurking to take her life was for her proof that this was how things were. Me impaired ability to symbolise is accompanied by problems with verbal communication. In extreme cases, words become empty sounds, since they do not represent feelings, phenomena or experiences. At the same time an individual functioning psychotically may retain the formal notions of combining words and use them non-symbolically, creating an appearance of communication without any emotional content. With psychotic functioning, the emotional content of a communication is manifested above all in the manner of delivering the communication and in the emotions that it evokes in the recipient. In this way, an individual functioning psychotically attempts to convey an unadorned, crude experience as it is, without the guise of a symbol.
A Homicidal Love Song by Diamanda Galás is an example par excellence of this kind of communication. The artist employs vocal expression, which is quite a sensuous, carnal act, a fact per se rather than a semantic carrier for words. As potential symbols, words clearly fall apart here; at times, they become totally butchered and turn into jabbering; at times, they retain correctness within formal rules. However, even in the instances where we occasionally come across sections of comparatively organised text, it is either completely broken up semantically, or else it has a strange relationship with the emotional content.
One can consider the musical layer of the piece in similar terms – it consists of loosely arranged sequences of repeating vocal motifs, or the smallest particles that combine to create the musical idea of the piece.2 Me more highly organised elements of the composition – such as the melodies and musical themes – occur solely in embryonic and distorted form, only, moments later, again to fall apart into separate strands. What certainly has a powerful and distressing impact on the listener is the total lack of tonality; without a leading key, we feel insecure; we are forced to endure tension.3
Taking into account the aesthetic dimension, it is impossible to claim that this piece by Galás is either pleasing or pretty. Hanna Segal considers ugliness a complement of beauty, rather than its opposite: 'Ugly and beautiful are two categories of æsthetic experience and, in certain ways, they can be contrasted; but if beautiful is used as synonymous with æsthetically satisfying, then its contradictory is not "ugly", but unæsthetic, or indifferent, or dull […] I suggest that both beauty, in the narrow sense of the word, and ugliness must be present for a full æsthetic experience […]. 'Ugliness' includes tension, hatred and its results – the destruction of good and whole objects and their change into persecutory fragments, if we say it expresses the state of the internal world.'4 It appears that Galás defines beauty in a similar way: as a full, satisfying aesthetic experience, an indispensable part of which is ugliness. This is how the artist commented on the piece under discussion here; 'it did, accurately, go through this series of emotional states and I was showing the extreme beauty in the [piece] – I suppose you could say extreme beauty, as well as other states; there's nothing about it that's pleasant – it's a very manic piece. Mere's still beauty in it, but it wasn't pleasant for the person inhabiting it.'
Does this composition by Galás communicate anything to us, apart from the sheer expression of the aesthetic experience? Me power of the emotional response on part of the listener clearly seems to answer this question in the affirmative; however, communication takes place here exclusively by means of expression and, precisely, via the emotions evoked in the listener. Galás builds up the structure of the message, using the simplest, most direct tools: repetition and the intensity of the scream. The composition acquires the characteristics of a symbol (that is to say, representation of an experience) only at the level of the totality of the communication: for the recipient, it may turn out to be a narrative about death, terror or arousal, but it reaches him mediated by non-symbolic, elementary, concrete forms of communication. If fear of what to us seems 'alien' does not make us turn away, we will notice that this primal communication is, in spite of everything, capable of touching and moving us. After all, we were all once screaming babies, and our very life depended on communicating through screaming.
I would like to conclude these reflections by drawing three conclusions. Firstly, the composition by Galás, understood as a musical form of expression of psychotic states of mind, can remind us that the predominant communication pathway in the case of the psychotic process is, above all, the emotional response evoked in the recipient.6 Art provides unique ways of directly evoking emotion in its recipients; this is, perhaps, why it is a better channel for communicating early mental states than language is. However, it is also the case in analytical psychotherapy that communication takes place not only via language; another method in which the therapist gets in touch with the patient's psychotic states of mind is through the feelings evoked in him by the patient.
Secondly, direct, crude transmission of primaeval emotion requires expression of equally crude, primal form: Galás abandons higher symbolic systems (musical composition and text) not because she is not capable of using them but because she wants to convey emotional states that exist outside the symbolic order. The artist has made a deliberate choice. Me patients in whom the psychotic part of their personality dominates are frequently not in a position to be able to choose. If symbolic communication remains outside their reach, they are condemned either to attempts to transmit their feelings in a literal, crude form, or else to a desperate loneliness of experiencing them.
Thirdly, the possibility of expression – even when primitive, but taken up in order to communicate – provides hope for an experience shared with another person. Galás writes and performs her compositions in order to communicate something, to convey to the listeners her experiences and ideas, even though they are neither easy nor pleasing. In the psychoanalytical psychotherapy of individuals functioning in a strongly psychotic way, such as my patient, we hope – in spite of all the terror, confusion and alienation – to find a similar desire to communicate experiences. We set out to capture the symbolic significance of communicating using primaeval, non-symbolic tools, although in doing so we must face our own fear. And yet, this is what gives the patients a chance to share their experiences with others, which is one of the dimensions of freedom – in art, in the therapist's practice and in life.
Translated by Anda MacBride
1 Cf, e.g., H. Segal, Notes on Symbol Formation, in: @e International Journal of Psycho-analysis, 1957, vol. 38.
2 Cf. A. Webern, @e Path to the New Music, Meodore Presser Co., Pennsylvania 1963.
3 Cf. H. Markman, Listening to Music, Listening to Patients: Aesthetic Experience in Analytic Practice, in: Fort
Da 2006, no. 12.
4 H. Segal, A Psycho-Analytical Approach to Aesthetics, 5 Cf. S. Tcherepnin, Diamanda Galás with Sergei Tcherepnin, in: @e Brooklyn Rail, July–August 2007.
, op. cit., p. 204.
6 Cf. R. Lucas, @e Psychotic Wavelength: A Psychoanalytic Perspective for Psychiatry, Routledge, London 2009.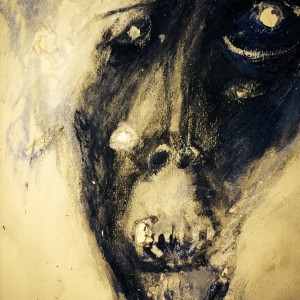 Diamanda Galás will begin the Master's Residency (2014-2015) at the Grotowski Institute from November 18-December 8 for her work on Die Daemonen der Stadt (words: Georg Heym, music: D. Galás).
Die Daemonen der Stadt is the second part of the large work that commences with Das Fieberspital (text: G. Heym, music: D. Galás). Texts by Gottfried Benn and Galás will also be explored.
The two other invited artists for the 2014-2015 Residency are Thodorus Terzopoulos and Tadashi Suzuki.
It has come to our attention that a Italian monograph on the work of Diamanda Galás that was to be published by Gorgon Magazine has lost its funding, leaving many excellent essays unpublished.
If you wrote a piece for Gorgon Magazine, please send it to us at diamanda.assist at gmail dot com, as we have been contacted by a new editor who would like to find a home for these works.
When listening to Diamanda Galás in the past I have been struck by both the imagery she uses and that she evokes both audibly and visually.  For me she has struck on a number of iconic images, both from Greek cultural history and myth, which enrich and inform her work in a way that few other current performers could.  In this essay I will outline the many ways this underlying imagery enriches her art.
In 1991 I attended a performance of Diamanda Galás' 'Plague Mass' at the Lycabettus Theater in Athens.  In an article describing the performance I wrote:
"Diamanda's performances have always been dramatic, but now she was to perform in the land of Dionysus – god of theater and divine madness.  This is also the land of the bloody stories of Oedipus and Medea, the perfect setting for the blood right of the Plague Mass….The performance at the Lycabettus was a cathartic pagan ritual, howling with anger and pain…."This Is The Law of the Plague" began atop a platform.  Smoke, lit red, created a vortex around her, evoking goddesses of anger and vengeance such as the Erinyes and Hecate.  Diamanda moved to the foot of the stage and crouched, flagellating the stage with her hair, calling to mind the mourning of Demeter over Persephone."
To the casual reader (or someone unfamiliar with Diamanda) this evocation of Greek myths might seem excessive.  It is, however, something that has struck me about her since the very first time I saw her perform.
If you look at images of Diamanda through the release of 'Saint of the Pit' you will notice that her hair is often extraordinarily high, ratted and wild.  This could be seen as a tip of the hat to the wild woman mentioned in 'Wild Women With Steak-knives' or as the personification of extreme emotional states from the German expressionist theater that inspired her, but I have always seen it as being something else as well:   the personification of archetypal imagery from Greek mythology of demi-goddesses of revenge and extreme emotion such as Medusa.
This is not a new idea for me – quite the opposite.  On December 14, 1984 I saw Diamanda perform the first time as part of the San Francisco Symphony's 'New and Unusual Music' series.  She was part of a three person lineup for the evening, with Paul Dresher and Anthony Davis.  She came on first, much, I would suppose, to the chagrin of Mr. Dresher & Davis.  For when she stepped on that stage and performed 'Les Yeux sans sang' and 'Panoptikon' I was awestruck.  Clearly this was not only something very new, but something very old as well.  I was acquainted with her music (I had heard 'Litanies of Satan'), but seeing her live was something quite else.  I was transported.  And suddenly the rage and the venom at the clinical detachment in 'Les Yeux' and the horror of being constantly watched in 'Panoptikon' clicked into place and made perfect sense.  She was there as a Fury – to transport us to the battlefield and witness the horror.   She is the perfect embodiment of a Fury, as they were created from the blood of Cronus castrating Uranus.   Yes, she was evoking these emotions years before she said 'I don't like him…let's kill him' on "The Sporting Life."
Iconography of this nature exists from the beginning of Diamanda's work.  The notes for 'Medea Tarantula', her first performance work, used a Henry Miller quote: "There is a kind of ingratitude among the Greeks which the foreigner is quick to smell out.  It is the evil flower, one might say, of anarchy.  Ultimately the Greek stands alone.  Ultimately he devours his own progeny.  It is in the blood."  So from her work on the U.C. San Diego campus forward she has been evoking her Greek heritage and the myths of her culture.
Medea, then, was there at the beginning.  A woman scorned by a husband who has (at least according to Euripides) traded her in for a politically expedient marriage.  And much like it does not end well for the unnamed man in 'The Sporting Life' it does not end well for Jason's children.  The primordial spirit of vengeance comes forth across the battlefield from the very beginning.  And Medea remains a constant presence in Diamanda's work from the homicidal love song 'Wild Women with Steak-Knives' to the song cycles she currently sings.
The Henry Miller quote is doubly resonant in that he says 'It is in the blood.'  Diamanda's blood is not just Greek – her family comes from Mani.  And the influence of Mani runs deep in her music.  Mani was the only part of Greece that stood independent and remained free of Ottoman rule.  It was a very bloody independence – and one fought for by both the men and women of the region.  So when she says 'The World Is Going Up In Flames' in "Defixiones, Will and Testament: Orders from the Dead" it is indeed the fire from the genocides, but it also reflects the fires which burned in Mani from the 15th to the 19th centuries.
Mani is also one of the places in Greece where the Moirologia dirges were kept alive to the present era.  These dirges are laments regarding the fate of the dead (and the living they leave behind).  They often reflect the natural world, speaking of birds, trees and mountains, as well as the supernatural world – that of Charon and Hades.  And there is a distinctly pre-Christian feel to them:
"Go back, O Charon; and take your sword with you" (from 'Mourning Songs of Greek Women' by Konstantinos Lardas)
The most direct use of material which is like the Moirologia is from Diamanda's eponymous album on the cut 'Tragouthia Apo To Aima Exoun Fonos (Songs From The Blood Of Those Murdered)', however it is not the only place I see its influence.  Indeed the entire 'Plague Mass' song cycle can be seen as a lament – and in place of a cold, unfeeling boatman who ferries the souls to the world of the dead you have a cold, unfeeling government (and populace) that stands by while the inevitable happens.  In the case of both 'Tragouthia' and 'Plague Mass' the ancient fears have been supplanted by modern ones – the horror of the Greek Junta and the lack of response to the AIDS crisis, but the primeval horror and sadness remain as much as in the original.  Indeed even the imagery from the albums reflects the mourning tradition – on the cover of 'The Divine Punishment' Diamanda is draped much as the Greek women are when they go into mourning.
I am not alone in my appreciation of Diamanda's use of Greek lament in her work and its evocation of her Maniot cultural heritage.  In her book "Dangerous Voices: Women's Laments and Greek Literature" Gail Holst-Warhaft says:  "…one of the few artists to confront the horror of AIDS in a head-on collision is the American singer/song-writer Diamanda Galás.  Galás, whose origins are Greek, draws on her ancestry in her work.  She appears on the cover of…'You Must Be Certain of the Devil' dressed in the traditional clothing of a Greek village woman in mourning, with her finger on the trigger of a pistol.  The songs…draw on…texts from Poe to Baudelaire, but it is her ability to interweave these poetic texts with the laments of Mani…that give her work its compelling power.  'Let's not chat about despair,' says Galás on the cover of the same record….Laments do not chat about despair.  They confront death with open eyes."
Certainly Diamanda has been working with this iconography from the beginning of her work – as she says; she was born 'somewhere between Tijuana and Sparta.'  Her parents were the first people to point out to me the connection between Moirologia and her music.  And it was in her family's home that she first heard Rembetika music.  Her father had been in a band which played Rembetika on the East Coast of the United States.  Her parents met when he was playing in the town where her mother lived.  And Rembetika too has had an influence on her imagery and identity – and can be linked to her family history in Mani.  As Mani had existed outside the realm of nation states from the fall of the Byzantine Empire to the formation of the modern state of Greece they were often seen by the authorities (or invaders) as outlaws, pirates or highwaymen (they were called 'Klephts', a word which shares its root with kleptomania).  This was a fertile ground for the Rembetes who were a criminal subculture the came from the transfer of populations after the Greco-Turkish war.  And though her father played music associated with his group he didn't identify with their lifestyle.  This is where his admonition to his daughter not to become a singer comes from – the women who sang for the Rembetika bands back in Greece were not exactly role models in his view (nor was their world where he envisioned his daughter).  And, of course, there was nothing he could say which would make this more attractive to her.  And it was a short journey from her work with jazz musicians in the 70s (and the streets of Oakland) to singing Rembetika.  Still, it wasn't until the 90s that she was playing and recording Rembetika songs in concert (the first recorded was "Keigome Keigome" on her 1998 release "Malediction and Prayer") so her father's concerns may have had some effect.
Perhaps the strangest, most heart-wrenching and compelling connection Diamanda has to Greek myth is her connection to the myth of Cassandra.  Cassandra had the gift of prophecy and is cursed in that she watches the future she has envisioned come to pass in Troy.  What many have misunderstood about 'Plague Mass' is that they have believed it to be inspired by the death of Diamanda's brother Philip.  Indeed it is informed by his death (particularly in 'Saint of the Pit' and 'You Must Be Certain of the Devil'), but the actual inspiration for the work came in 1984 when she visited Tom Hopkins, who died in 1985, at St. Luke's hospital (as close readers of the liner notes of 'The Divine Punishment' know).    The first performance of 'Free Among the Dead' was at Club 9 in San Francisco on Oct. 27, 1985 (it was absolutely riveting).  So her work on 'Plague Mass/Masque of the Red Death' started in 1984 and had already taken shape to the point where she was performing pieces from in in 1985.  Diamanda's brother Philip didn't become sick until early 1986 – at around the same time she was recording 'The Divine Punishment' in England.  She premiered the 'Masque of the Red Death' in Linz on June 23, 1986.  What 21st century readers may not understand about the progress of AIDS in the 1980s is how stunningly fast people went from becoming sick to dying.  Philip went from just being sick at the beginning of the year to dying within eight months.  Now clearly she had not envisioned the way the disease would impact her personal life, but still Diamanda had developed a work or rage and mourning about the horror of this disease.  Lesser people would have been defeated or driven mad by such a personal loss and given up the project.
In discussing 'Plague Mass/Masque of the Red Death' and iconic Greek imagery there is a somewhat startling juxtaposition which merits comment:  the uses of biblical texts in the work.  What are we to make of the use of Jewish and Christian texts in the context of a work so strongly Hellenic?  The truly odd thing about the uses of these texts, whether Leviticus, Psalms or Revelation is that they do not call into contrast the views that were held in in Bible or in Greek Myth – they actually complement one another in the attempt by humans to explain a world which is so out of their control.  For much as Cassandra is cursed by Apollo and therefore lives her life in tragedy, so the use of Psalm 22 with its plaintive 'Why have you forsaken me?' speaks to a world out of control where humans seek a context for meaningless tragedy.  Yes, the use of Leviticus with its admonitions of what is clean and unclean is an indictment of a cold and unfeeling society and god, but no more so than what Euripides has the attendants of Dionysus say in the Bacchanals: 'Divine strength is roused with difficulty, but still is sure.  It chastises those mortals who honor folly and those who in their insanity do not extol the gods.  The gods cunningly conceal the long pace of time and hunt the impious.  For it is not right to determine or plan anything beyond the laws.'  For the listener who is puzzled by this convergence of cultures there is one clear answer.  The person who is mixing these traditions is beyond belief in either of them.  It took an atheist to see the connection between the horror of tragedy in the Hellenic tradition and the judgment of the legalistic God of the Bible.  One additional note regarding Diamanda's use of Revelation in Plague Mass:  the view of what John of Patmos' book means is evolving over time.  As Elaine Pagels points out in her latest book ('Revelations: Visions, Prophecy, & Politics in the Book of Revelation') the people of God and the people of the enemy have evolved over time: from the followers of the apostle Paul to heretics to Martin Luther and the Pope.  'Plague Mass' continues in this tradition by casting the enemies of people with AIDS as the enemies of God.
"Vena Cava" is a work that we can look at with new eyes when we examine it in terms of the mythic and iconic.  Certainly it is a work that concerns AIDS and dementia in a hospital context, and therefore is a very modern work.  But the central questions it asks regarding the mind, its grasp on reality and the implications of the release into death for both the person dying and the survivors are as old as Orpheus and Persephone.  References to sickness as being either a demonic plague released on the Earth along with all other troubles go back to Hesiod, who saw illness as the Nosoi, which were released by Pandora. The Romans equivalent of one of the Nosoi was named Pestis, who gave his name to the bacteria for the plague and it is in the Roman evocations of Greek spirits in Seneca's 'Oedipus' that we hear an echo of 'Vena Cava', when Teiresias calls upon the spirits to discover the cause of a plague affecting Thebes:  "Suddenly the earth yawned and opened wide….Forth leaped a savage cohort and stood full-armed….Then grim Erinys shrieked, and blind Fury and Horror, and all the forms which spawn and lurk midst the eternal shades: Grief, tearing her hair; Disease, scarce holding up her wearied head; Age, burdened with herself; impending Fear, and greedy Pestilence….Our spirits died within us."  Sickness and death were directly linked with the underworld in Ancient Greece, and in a time of a plague which is incurable we get an echo of the pale and morbid world:  "I wake up and I see the face of the devil and I ask him, "What time is it?"  And he says, how much time do you want?"  The devil and his infernal underworld are invoked as the touchstone for the poison invading our world much as the Erinys and Pestilence were in Thebes.
Looking at Diamanda's work through the lens of ancient myth also allows us to make a direct connection between 'Vena Cava' and 'Schrei X', for to the ancients it was clear that the source of both illness and madness was in the dark stygian depths of the underworld and that they are forces which are more primeval than even the gods.  The Maniae are related to the furies and Lyssa (rabid rage).  They are the daughters of Nyx, the Goddess of the night (and therefore it is appropriate for them to appear in the total darkness of 'Schrei X) and are said to dwell past the river Styx.  In ancient times the connection between madness and illness was clear and the goddess Lyssa was both the spirit of mad rage and rabies in animals.  There is no doubt that the ancients would recognize the spirit of madness in 'Schrei X.' Consider how Euripides describes her descent using a chorus of Theban elders in the 'Madness of Heracles':  "She is mounted on her car, the queen of sorrow and sighing, and is goading on her steeds, as if for outrage, the Gorgon child of Night, with hundred hissing serpent-heads, Madness of the flashing eyes."
Given the imagery I have talked about in Diamanda's work it is not at all hard to see the direct connection to iconic Greek myth.  Perhaps what is most astounding about her work is that she is not a classicist:  she has not (to my knowledge) made a direct attempt to draw this material into her work.  In that there is honesty which make the connection all the more visceral.  The spirits (daimon and theos both) speak directly through her work, making it more direct than even the operas which retold ancient myths – and certainly evocative in a way that very little else is in modern music.   Perhaps the connection has been clear to me because I saw her perform on a mountaintop in Athens or perhaps because I saw the frenzy of the maenads in her work when I first saw her perform 28 years ago in San Francisco.  It is doubtless to me that the archetype of our own avenging Gorgon has been loosed upon the world by some ancient connection and we are all much the better for it.  All praise to the primeval spirits of the night.