Concert review of Diamanda Galás at the Stockholm Music & Arts festival, August 2, 2013
August 15, 2013
by Allan Nilsson
Spanish translation, here.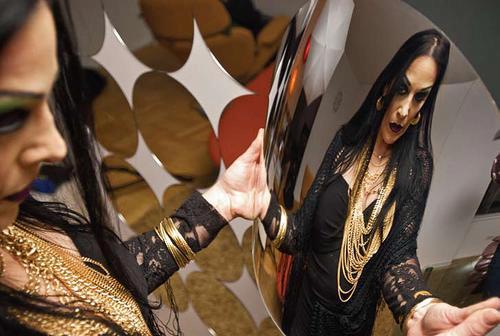 Preamble
Stockholm Music & Arts is a three days long outdoor festival taking place in a beautiful location in the heart of the city on a tiny island. Among the artists that performed at the festival were CocoRosie, Billy Bragg and Prince—a mixed but pleasurable group of singers and musicians. Let me say something in general about these kind of huge open air hippie venues. I don't like them, or rather I think they are fine for those who like to get their rocks off, while bleating in time to pop music. In 4 – 4 time of course, nothing too complicated. It's either that or a gargantuan picnic: in a worst case scenario, it is both. No offense intended, ladies and gentlemen. I've been a sheep too, once.
I went there to experience Diamanda Galás, avant-garde vocalist and grande chanteuse spectaculaire. Galás has a command of a variety of singing traditions and techniques such as operatic singing, incantational performance, sprechgesang, multiphonic melodic performance, and improvised singing firmly rooted in traditions from the Middle East, Greece, and Southern Spain but also in the more well known music genres like jazz and blues. This makes her one of the most interesting singers of our age.
As the classically trained pianist she is, her playing is always well defined and she knows how to achieve the widest range of dynamics and sonority. The heaviest chord played fortissimo never sounds like hammering but like a distinctly focused tone. Her finger control is consistently impressive and she plays with vital imaginative resource, which shows in her re-arrangements of the songs of other composers.
One quality of her art, as I perceive it, suggests that if the certainty of death places a limit on every joy, it also places a limit on every grief. So forget about reducing her to doom and gloom. She has that extraordinary ability and communicative gift to take the attentive listener to new secret places, with a voice that melts down stone.
The concert in two parts: The Hour Will Come

(Photo by Joanna Stoga, Photoshopped by Diamanda Galás)
Part one
In the first part she performed a completely new work * Das Fieberspital (The Fever Hospital). Selected verses spoken by Robert Knoke. I could write an essay about this astounding work (but not here, not now), and calling the work kaleidoscopic would be an understatement. Galás has set music to the poem Das Fieberspital (The Fever Hospital) by the German expressionist writer and poet Georg Heym (1887-1912). The work is nineteen stanzas long, written in rhymed quatrains. It is metrically strict and rhythmically coherent, with the striking aspect of "phanopoeia" [the throwing of the visual image upon the screen of the mind], and it's easy to understand why the poem has caught Diamanda's attention. I believe that she used only twelve stanzas of the poem for dramaturgical reasons. The work starts with Diamanda standing up and tossing off high pristine notes which were long and sustained —- with almost all the operatic virtues in the book: seamless legato, immense breath control and incredible stamina. It fades out in an Greek Orthodoxic lament of mourning. This is the evocation of the work. Then she sits down at the piano and she walks you from there and through "The Fever Hospital". Each stanza becomes a tableaux vivant, which she unfolds before us and in a variety of ways: reciting, whispering-hissing, singing, shrieking etc, illustrating sonically Heym's catabatic vision. A variety of approaches give an astounding variety of expressions that are true to expressionism in spirit and form.
When I hear the work I find it impossible to disassociate it from an emotional experience. A re-phrased quote by Theodor Rothke's: "One view: I'm sick, therefore the world is a hospital." comes to mind – Split vision view: the world is sick, therefore I'm a hospital.
*Das Fieberspital is performed as a "work-in-progress", since its development will be ongoing for some time.
Part two
Diamanda Galás performed following songs in the order below:
Fernand (Text: Jacques Brel | Music: Gérard Jouannest)
After the first four lines "Dire que Fernand est mort, Dire qu'il est mort Fernand, Dire que je suis seul derrière, Dire qu'il est seul devant." (To think that Fernand is dead , To think that he's dead, Fernand ,To think that I'm alone behind, To think that he's alone in front.) had her concern with the meaning blowing me away, to a secret landscape between the lines. The piano has a more prominent part, is more elaborate and embellished, than other versions that I've listened to (as a point of reference). Thusly, the piano part gives Fernand as performed by Galás, an edgier and more desolate drive, in perfect line with the lyrics. I find her, here and elsewhere, over and over, recognizing the composer and yet expressing something uniquely hers (she refers to this as the art of interpretation).
Anoixe Petra (Text: Lefteris Papadopoulos | Music: Mimmis Plessas)
"Open the rock for me to shut myself in;
so that the sun may not see me.
Instead of bridal white, I now must,
I must dress in black."
Anoixe Petra is said to be one of the all time classic Greek songs and is closely associated with the Greek singer Marinella, who is something of an icon in her country. It is originally a Mikroasian Greek zeibekiko song but Diamanda takes it further eastwards to the Black Sea. In the re-arrangement you'll discover its roots. The Anatolian (Oriental) – ornamented piano part and singing is not found elsewhere in renditions of this song. The musical texture is rich, dense, luscious and idiomatically Middle Eastern. Do I hear a chromatic formula? This is Asia Minor. Anoixe petra means" open rock". Oh man, when you hear her underline the last vowel in Anoixe (open) with sepulchral shadings of voice and incandescent timbre, you realize she's addressing the devil for us all. You can feel the sand under your feet.
Morphine (2010) (Diamanda Galás)
"There is no cure for loneliness
But itself.
The wide glare of day?
Endless.
The night was luxurious.
And with it,
All your dead friends,
Who kept you warm.
But then the day begins
A car, a bird, the bell rings
"Wake up, sucker!
"The Happy People Are At Your Door!"*
One of my few friends exclaimed after reading her "In The Mouth Of The Crocodile". "She's the most articulate artist of today". SECONDED! Diamanda's reading of her own astounding prose poem "Morphine" was a tour de force performance, worthy of any fine actress from the theater world. Enunciation, rhythm, tempi and inflection were all ingeniously performed. It was evidently a trained singer reading the poem up there. Her sarcastic wit and black humor is one of a kind. There are most certainly more to it than that but it takes an intelligent reader to find out. Read and listen to it. Metabolize. Unforgettable.
O Death (Traditional Dirge)
A dirge is a somber song or lament expressing mourning or grief, such as would be appropriate for performance at a funeral. Immortalized by Ralph Stanley, who sticks to the white bluegrass gospel tradition. Diamanda's sharp-edged and take-no-prisoners approach tightropes above the abyss. Why not? It's liquid gold in a minor key down the mountain. Do pay attention to the alive and flexible pulse underneath it.
*The three first stanzas from Morphine (2010) by Diamanda Galás.
See That My Grave Is Kept Clean (Blind Lemon Jefferson)
To put it very simple. This is a MEAN rendition of Blind Lemon Jefferson's song from 1932. We're talking about the meanest badass bitch blues singing here on the planet. With chord changes, rhythmical flexibility, elaborate singing and playing she takes this standard blues song to another level. A higher level, that is. Add to that an unparalleled emotional intensity and you will find yourself floored, like I did. She has an ace – an incredible vocal range and the technical prowess to use it.
Richard Strauss asked in his last opera Capriccio – "Prima la musica e poi le parole?" (Which is the greater, music or poetry?). Diamanda Galás has answered that question in an ecstatic double helix, ignoring the rules of the mainstream and any preconception of what is possible.
What a resplendent and intoxicating afternoon in Stockholm. Please, come back to Stockholm next year. It's cold here upstairs and by the way, Sweden loves you.